It's been one awesome month for Star Wars, as well as for Star Wars fans. First Star Wars: The Force Awakens was finally released on blu-ray and digital, it also won Mtv's movie of the year, along with Daisy Ridley wining breakthrough performance, and the teaser trailer for Rogue One: a Star Wars story was released.
The month of April definitely belonged to Star Wars! So I thought this would be the perfect time to tell the story of how I became a fangirl of the greatest story ever told!
I grew up knowing the existence of Star Wars from my two older siblings. My brother who was a fan of it and my sister who liked the ewoks. So my knowledge was pretty slim.
That all changed the spring of 1999. My brother walked upon my face of pure astonishment when the trailer came on our tv screen. He knew he had to take me to go see it, and yes I begged him too. He had gain a companion! A jedi padawan if you will.
As any huge blockbuster movie there is excitement, this movie's anticipation however surpassed the rest. Fans around the world had been waiting nearly 20 years for another Star Wars. No surprise that episode 1: Phantom Menace was going to be the talk of the year.
So my 8 year old self and my then 19 year old brother wait patiently/eagerly, in line for hours.
[Exiting movie theater]
Excited, awed, fascinated, intrigued, astonished, amazed, every word known to man was what I felt walking out of that movie theater after the film. My mind had been expanded to this spectacular universe! MY MIND WAS FUCKIN BLOWN!
I couldn't stop talking about it and definitely talked my brother's ear off as if he himself hadn't just watched the movie. He then thought of an idea.
At that time, across the street from our movie theater was a Toys R Us. We walked in and he bought me and himself Darth Maul lightsabers. Say what you want about episode 1, Darth Maul was awesome and so was his lightsaber. The second we arrived home, we lite those bad boys and the magic of Star Wars was forever engraved in my soul. Permanently.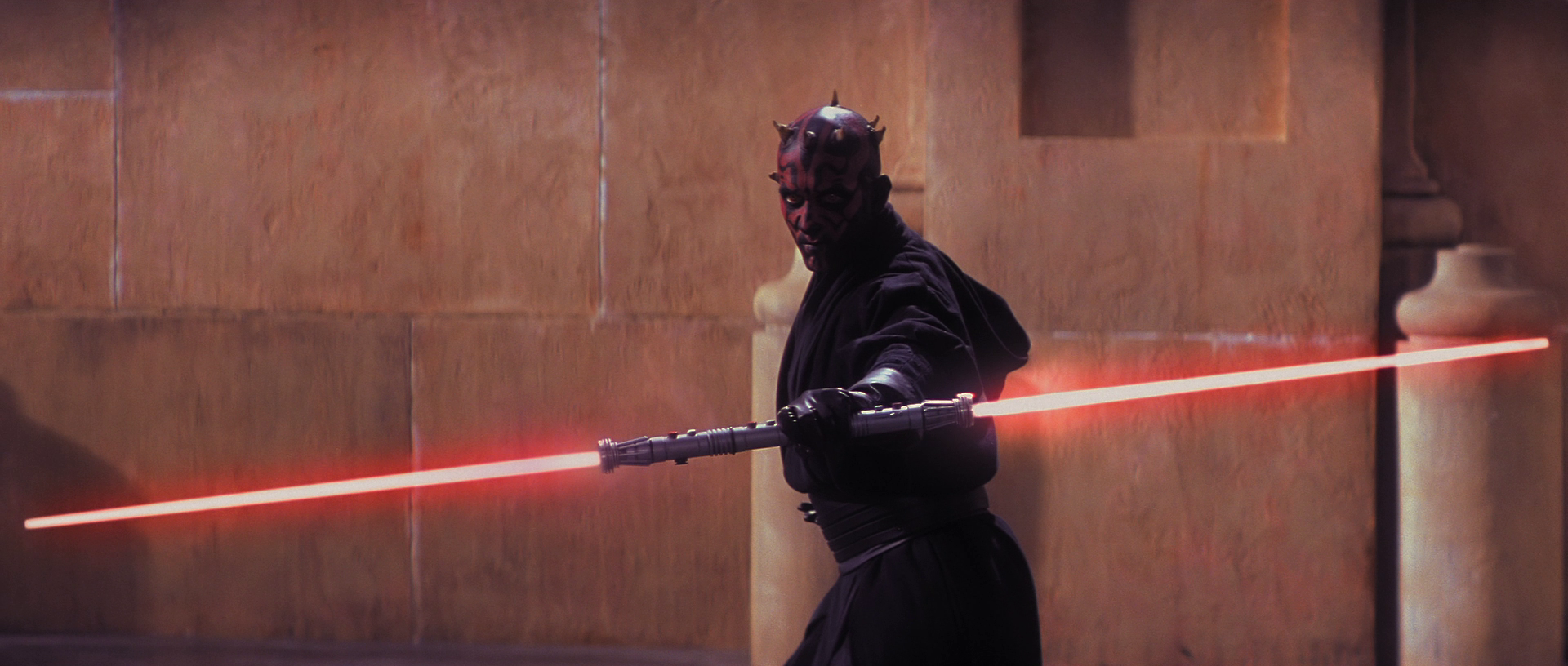 Time went on and my love/obsession sky rocketed to Naboo. I was a proud owner of a Darth Maul lightsaber, a pit droid clock, a Obi-wan Kenobi calender (he was my first crush) and a Jar Jar Binks doll. I know, I'm one of a few who didn't absolutely hated Jar Jar.
Star Wars: Phantom Menace had it's issues of course, but as an 8 year old girl it expanded my imagination and it's endless possibilities. Star Wars became much more than just a fun and enjoyable movie, but a beautiful story filled with action and characters you feel connected too. Episode one made me want to know more and more about the George Lucas's creation, which lead me to watch the originals.
It's a movie that has a great place in my heart.
17 years later and I get just as excited as I was when I was 8 years old. It amazes me how much Star Wars has influenced my life. So much of the things I'm into are linked somehow to Star Wars.
It's referenced pretty much everywhere! Every show, movie, books, will make a Star Wars reference and I loved that! That's how incredible it is!
Yes I do have a countdown, for Rogue One!

I want to know, what's your Star Wars story? Comment below!