Bring on live action Disney movies, I say!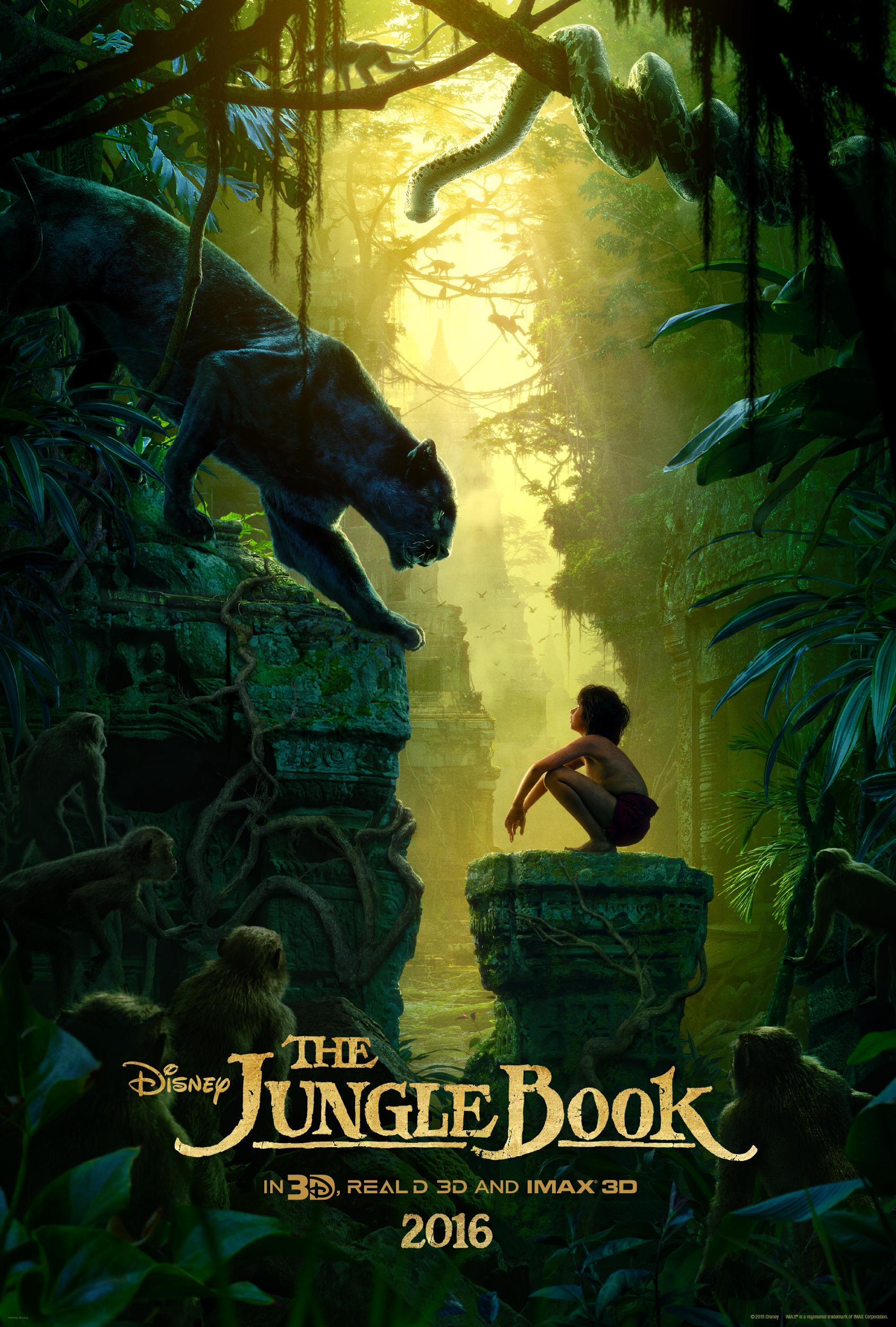 Mowgli is a "man cub" who has been raised by wolves since he was found by a panther Bagheera (Ben Kinsley). Mowgli, although man knows nothing more than living as a wolf. The leader, Akela forces Mowgli to follow the ways of the pack when he creates tools or "human tricks."
The jungle experiences a drought and the animals make a truce in the remaining source of water. Every animal, with this truce, can be around predatory animals without the fear of being eaten. Just then we meant our villain!
A scarred tiger named Shere Khan (Idris Elba) detects Mowgli's scent and with his hatred on men he warns the pack that when the truce is over he is going to kill Mowgli.
Akela realizes the danger Mowgli is in and sends him away with Bagheera to be returned to the humans. Raksha (Lupita Nyong'o) is the only mother that Mowgli's ever known and although she doesn't agree with sending her son away, she agrees it will keep him safe from Shere Khan.
On their journey Bagheera is attacked by Shere Khan, and leads Mowgli to a scene from Lion King. Mowgli manages to escape but is separated from Bagheera. Shere Khan knowing that the pack means something to Mowgli and he returns to Akela to wait for until then.
Mowgli alone falls victim to huge python Kaa (Scarlett Johansson) where she hypnotizes him  which shows him his past. Mowgli sees his father protecting him from Shere Khan, which is how he got scarred. Shere Khan kills Mowgli's father and flees, not realizing he left behind his son. Kaa tells Mowgli about the danger of man's "red flower" which is fire, and how men can take whatever they want because of it.
Just as Kaa is about to kill Mowgli, a bear rescues him. A very smart, hilarious, lazy bear named Baloo (Bill Murray) tells Mowgli that he has a debt to pay because he saved his life. Now, Bill Murray was fantastic as Baloo and his jokes were so funny and you can kind of forget that he was totally playing this kid. Just as Mowgli and Baloo being to understand each other, Bagheera returns.
You see the conflict in Mowgli in wanting to stay in the environment he was raised in and returning to his own kind. Mowgli feeling alone and betrayed is taken hostage by monkeys who take him to their leader.
Enter King Louie (Christopher Walken). Orangutan, King Louie tries to convince Mowgli into stealing the humans "red flower" and in doing so will receive anything he wants.
Now you can't have a Disney movie without music, especially a live action without some of the iconic songs. Of course once they played them I sang along…beside my nephew who has never seen The Jungle Book before. I REGRET NOTHING!
The movie continued to illustrate the frustration in Mowgli, in what he should do or what he feels right. A big applause to Neel Sethi who played Mowgli perfectly, but acted better than most high paying actors do. This kid acted everything with green screens and visual effects! He killed it and deserves praise! Jon Favreau recreated The Jungle Book and succeeded in what the Disney version had. Heart, action, friendship,family, and a great coming of age story that the whole family can enjoy.
I had a great time with this movie and happy to say my nephew enjoyed it as well!