I'm surprised I can't speak Japanese after watching Sword Art Online so much! Obsession with this show…there I said it! The first season is in English and the second is in Japanese with English subtitles. 
I've always wanted to get into anime but never knew where to begin. My 12 year old nephew has been on a anime craze and told me about this show. SO GLAD HE DID!

A virtual gaming system known as NerveGear is released to the public along with the world's first virtual reality game called Sword Art Online. Kirito is one of the best players, logs in to Aincrad which is the setting of SAO.
Kirito believes that the virtual world is better than reality, and that concept goes with a lot of the players in the game. I found it intriguing how each player sees themselves as something more than what they really see in the real world.
Kirito befriends another player named Klein and after hours of teaching Klein how to become a better swordsman they decide to log off. With a flick of their finger they can open their main menu, only to discover that the log off button has disappeared.
They're suddenly sent to the main city of Aincrad, where their surrounded by every player. Akihiko Kayaba, the game's creator, announces that they can not escape the game. If their Neargear is removed in the real world they would be killed instantly. That also includes dying in the game, die in the real world. The only way to log off is to clear all 100 floors of the game. Akihiko wants to be God of all and he is the DICK OF ALL DICKS!
Win the game and you can leave it alive.
2 years! The players have been stuck in the game for two years. In that time Kirito has mastered the sword and is known as The Black Swordsman as well as a solo player. Kirito believes that taking on someone is a responsibility, in not just their life but his own. Determined to finish the game and again save himself and everyone else, he sets off to win the game.
Sword Art Online is a mixture of Kill Bill ,The Matrix and Zelda! If that doesn't make you want to watch you're definitely missing out! SAO has friendships, first love, heartbreak, and swords and a lot of it.
As I mentioned in the beginning, the players in the game created their avatars as their alter-ego, someone they wished they were. Another reason the players were so drawn to that world was that most of them didn't have much of a social life in the real one.
Shocking right?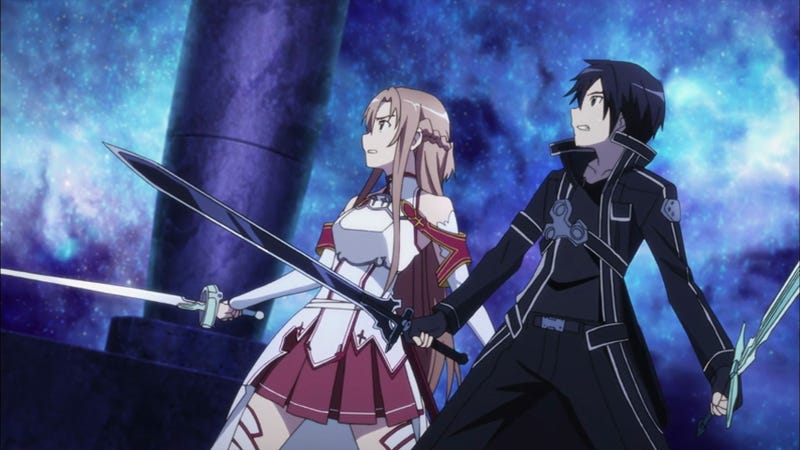 Even though Kirito and the players he ends up meeting and befriending, there is difficulty in finding out their true identity in the real world. In the game they choose an online name instead of their own. Yes, even Kirito isn't his real name.
I love that! I know we all wish to be someone else, someone who we picture to be better and bad ass!
I can't be the only one!!
Each episode is a level the Kirito must pass to get him one step closer to freeing himself and the rest who are trapped in the game. The series also has some backstories of some of the characters that explains why their in the game.
I couldn't get enough of it and I'm still hooked and want more. The entire story and characters, as well as the concept, drew me in and kept me on edge. Sword Art Online is said to be one of the greatest anime and I can see why.
Seasons 1 & 2 are available for streaming on Netflix, which is how I watched it. I'll review season 2 soon. I will say this about season 2, MUCH DARKER!
Sword Art Online is forever in my heart and I love Kirito each time!