Do yourself a favor and watch it!
Goonies meets Poltergeist meets E.T. mix it all together and it's one hell of a show!
A young boy, Will, goes missing and shit hits the fan really quickly. His friends last saw him the night before, after an intense game of Dungeons & Dragons and take it upon themselves to find their friend.
Back with the adults, Will's mother Joyce (Winona Ryder) starts seeing creatures come out of the walls and begins to believe that the lights in the house are a way to communicate with him. The Chief police, starts to investigate more into the disappearance and comes up with more than just one case and some serious weird shit.
A search party begins and the kids head to the last place they saw Will and they find another mystery. In the last place Will was seen, they find a scared lost girl, with a buzzed hair cut and wearing a shirt 5 times too big. The group of kids take the girl back to on of kid's house. There the realize that the girl isn't lost but a run away. On the girl's arm is a number, 011, and reveals that is her "name."
At the beginning you're in three sections. The mother who you know can see and hear her son through the lights and the wall. The group of kids who found a girl, who happens to know Will and has powers. Finally the Chief police trying figure out what is true and find logic.
Stranger Things is an 8 episode series that grabs you from the beginning. I can't say more without spoiling pretty much everything. Just know a boy goes missing and a girl is found who just so happens to have powers. The girl whose name is Eleven not only knows about Will but can communicate with him.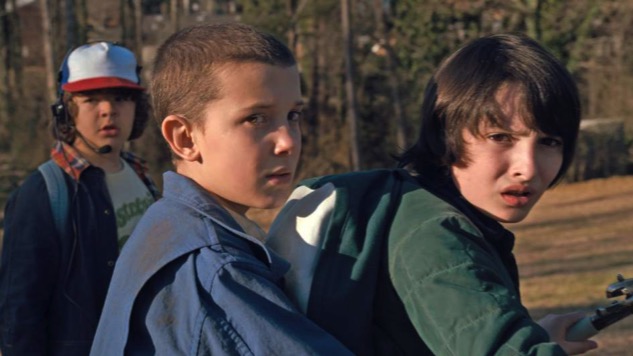 This show of mystery and sci-fi, contains perfectly executed humor with an 80's timeline that not a lot of shows can pull off. Millie Bobby Brown who plays Eleven is a fantastic actress and I'm sure we will be seeing a lot more of her in the future. Stranger Things is a must watch, definitely binge-able.