Fairy tales we all know in one place.
The Witch (Meryl Streep) seeks help from a Baker (James Corden) and his wife (Emily Blunt) in retrieving items to help her return to her beautiful state. Each item belongs to a different character in the fairy tale lore and it was cool having them connect with each other. I was watching it thinking it that it looked and sounded just like Sweeney Todd, and I later find out that the composer for Into the Woods was the same as Sweeney Todd. Explained a lot!
Cinderella ( Anna Kendrick) is abused by her stepmother and step sisters, which we all know that story. What's different is that they ball where she meets the Prince is a three night event and each night she runs away. One of the items is her slipper. Anna Kendrick played Cinderella well with the type they were trying to tell. Cinderella wanting a life other than over worked and abused falls for the Prince, only to question was her life would mean once they would be together.
A great surprise was Chris Pine's ability to sing and proved that this Chris too is a funny guy! There's a scene where we sings with her "brother" about struggles of the women running away from them and I laughed through the whole thing. I knew nothing about Into the Woods story so when (spoiler) Prince Charming ended up being a total player, I had to process that and ended up liking it. This guy has had everything handed to him and a major ego like that of course he would act like your typical tool. This Disney tale hit me with a reality that not all Prince perfect.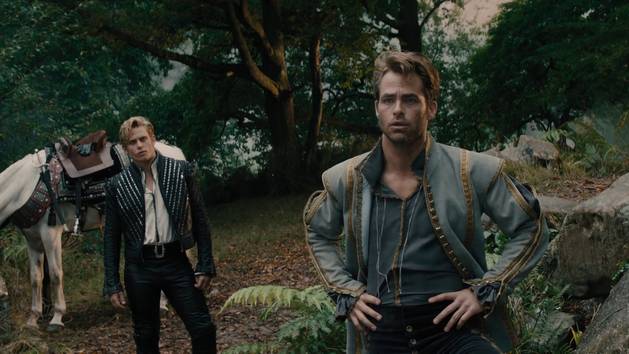 Having James Corden as one of the main characters worked very well and really showed that he can play someone other than a supporting character. Other characters such as Jack from Jack and the Beanstalk and Little Red Ridding Hood were interesting but were rushed in. Same happened to Rapunzel and left her story unresolved.
The music was of a theatrical scale, since it's based off of one but it isn't one I would have on my playlist. I can't be the only one who has a Disney playlist! The acting was great and when it needed to be cheesy and unserious it worked well in that particular scene. Overall, it was entertaining and had moments where I laughed out loud. Definitely for older kids since it has some slow paces and the prince isn't one they're using to seeing. You don't want your five year old asking why the Prince is kissing two woman, unless you're ready to have that conversation.