Beauty and the Beast is one of my favorite Disney films. Make it rated R and you have yourself an invested reader.
I'll explain more on it through the review!
Feyre is the sole provider for her family, which consist of her father and her two older sisters. Living in poverty Feyre has to hunt for their next meal and one day she comes face to face with a wolf ready to eat her meal, a deer and herself. Knowing that if she dies her family would too, from starvation, she manages to kill the wolf before he could attack her. Everything changes when a bigger AF wolf arrives at her cottage and demands retribution for the death of not just his friend but a faerie. She's given a choice of either dying in front of her family, who again would die without her, or go with him to his home of Prythian, a place no human is allowed to enter, and live forever there. Feyre's father, the man responsible for their lifestyle, begs Feyre to live out her life with the beast and not return. So 19 year old Feyre leaves to be a captive in Prythian.
Prythian is divided, closed off to mortal is one section, but the rest they're known as the Spring Court, Summer, Autumn, Winter, Dawn, Day, and Night Court.
Upon arriving Feyre learns that the beast is actually a faerie, but these aren't your typical faeries. The only thing that defines them as faeries are their ears, pointy, and they can produce magic. At least some of them look the same. Once the beast, who is revealed to be named Tamlin, returns to his fae, short for faerie, form she notices that he, along with all his servants are wearing masks. Masquerade masks. It is revealed that a disease has infected their homeland and in doing so has cursed them to wearing the masks all time except in animal form. The curse has been active for nearly 50 years.
Feyre wanting nothing more than escaping and returning to her family begins to learn more and more about Tamlin and his kind. Time passes she begins to see the good and the very thing she was taught to hate and fear. But just as all is good danger emerges and endangers her life as well as everyone she's grown to care for.
Now for the whole Beauty and the Beast aspect. Yes, there are similarities in this book which was one of the reasons why I ended up buying it without really knowing much of it. But what I found out was that even though it had the B&B theme it was it's own story and was just as riveting. So what other similarities did this book have on the story we all know besides the obvious. You know the whole love for the heart not the looks thing.
Belle like Feyre is wise, Belle might be book smart while Feyre is street smart, or wood smart, with hunting and selling to proving for her life.
The Beast aka Tamlin arrives and Feyre surrenders herself to him. Belle sacrifices herself for her father.
Tamlin has a temper, Beast can relate.
Tamlin tries to be kind to Feyre and tries to impress her. Beast gives her a frickin library, which Tamlin does do something similar.
The Beast was cursed and turned into the very beast from his human form. Tamlin has been wearing a mask for 50 years because of the curse. All does put a damper to your regular A game.
While the Beast and Belle consisted of casual touches and eye fuckery, Tamlin and Feyre's moments were not for children's eye.
The Beast has companions in his estate, Cogsworth and Lumiere. Tamlin has Lucien as his emissary. Although Lucien is rude, and an ass whole most of the time, his loyalty to Tamlin and his backstory causes some redemption.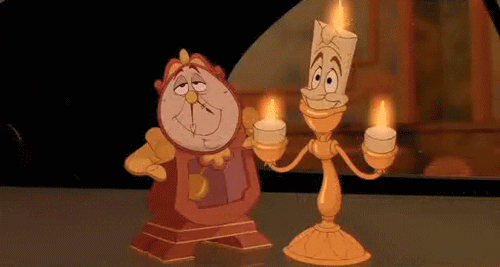 Mrs. Potts was the kind and loving maid to the Beast but as well as a mother feature. Alis, another servant to Tamlin, though not really kind and short with Feyre, helps her in her own way.
Gaston, a man woman want and men wish they could be and is obsessed with having Belle. Rhysand is feared, cocky, and sadistic as well as hell bent on having Feyre.
A Court of Thorns and Roses might have taken Disney's version of Beauty and the Beast as inspiration, or the real OG Gabrielle Suzanne Barbot de Villeneuve's version for the matter, but it made it it's own, which isn't easy. It went from awww totally shipping those characters to wow it's going there to what the fuck just happened! The book had me and refused to let go. I was entertained, was on the edge of my seat, it had mystery, action, and romance. I wanted more the second I finished reading which is something that every book should make you feel.
I bought A Court of Thorns and Roses out of popularity and a comparison to my favorite Disney film and hoping I didn't waste my money on a book I will end up disliking. After months of just sitting on my shelf I am relieved and disappointed that I didn't read it right away. It was an amazing read and one I will continue with the series!
I might just do a spoiler review for it…
A Court of Thorns and Roses is now in development for a featured film.